The Human side of Algorithms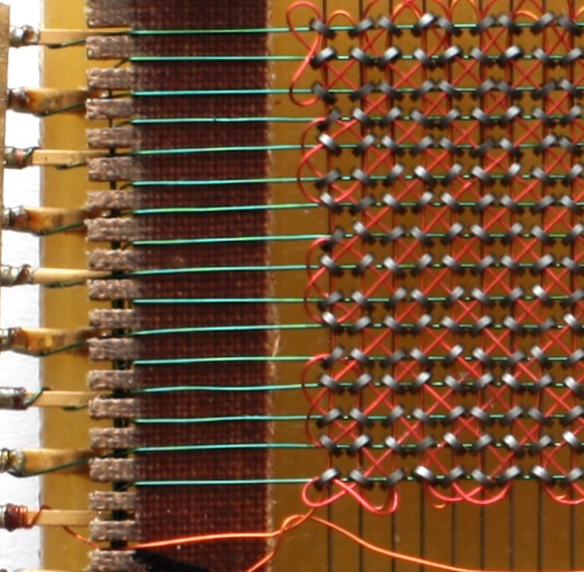 The best known part of weaving is the insertion of the weft into the warp. As this is commonly perceived as a mechanical movement, carrying the shuttle from right to left and left to right and back again endlessly, weaving seems to be a tedious process that is at best done by a machine and not a human being. Algorithms of this sort are today a defining part of digital technology. Algorithms almost equal digital technology in the common view and seem to be opposed to what makes a human being human.
Our project wants to re-think the digital along the lines and threads of weaving as a very early digital technology. The preliminary project Weaving Codes – Coding Weaves initiated a lot of activities and events to explore the relation of the digital and the textile especially through the rhythm, sound and algorithms of music (for example the Sonic Pattern and the Textility of Code events). In November 2016 the first Festival of Algorithmic and Mechanical Movement, ALGOMECH will take place in Sheffield, presenting a week long series of events featuring the human side of mechanisms and algorithms. There will be a talk on e-textiles by Becky Steward, a two-part concert entitled Crafting Sound which includes sessions on embroidery, lace patterns, codes and the sound of making lace; also a clog dance stemming from the cotton mill workers and their everyday mechanical movements and noise exposition. The ALGOMECH symposium on Sunday 13th November will present research programmes and performances related to the topic (Ellen Harlizius-Klück  presents the PENELOPE project) and especially the open platform on Technology without Technology might generate a lot of textile ideas.
But textiles will not be the only craft explored. The variety of performances and presentations is huge and we are looking forward to a very exciting and inspiring week in Sheffield.
---